Focus on Community Partner: AHRC Nassau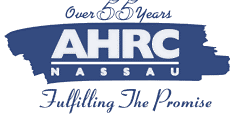 This fall, ReServe is beginning a new partnership with AHRC Nassau (www.ahrc.org), a Long Island-based nonprofit that has served people with intellectual and developmental disabilities for nearly 70 years. The two organizations will partner to explore how ReServists can build both administrative capacity and make a difference in the lives of people with disabilities through direct support and vocational training.
"We're incredibly excited about this partnership as it gives us the opportunity to be a true staffing partner – helping to identify unmet needs within an organization," said ReServe's National Marketing Director, Dawn Mastoridis. "It also will enable us to carve out a new social impact role for ReServists – working as coaches and mentors to people with disabilities."

Stanfort Perry, Executive Director, AHRC Nassau explained that supporting people with disabilities to explore their potential is central to its mission. "Employment can be a fast track for greater inclusion and connection with people in the community. We welcome the opportunity to work with ReServe to empower people with disabilities through a solid foundation of coaching and mentorship," he said.